Discussion Starter
·
#1
·
BrenTuning 1200/R9T/BMSK ECU Reflash Kit​
Signed up today with Motorcycle.com as a new Vendor here at NineTowners. As some of you may know us from other bikes, many years ago we've worked out all the performance mapping locations and restriction removals for the S1000RR BMSK ECU, which follows the same ECU Tuning strategy of the other BMW Motorrad Bikes including the R9T.
When the R9T was announced we put in our order for development and the rest is history. Below are the details and results we've found from the 1200 Boxer motor mapping, on a stock bike. Look forward to becoming an active part of this forum and sharing our engine R&D.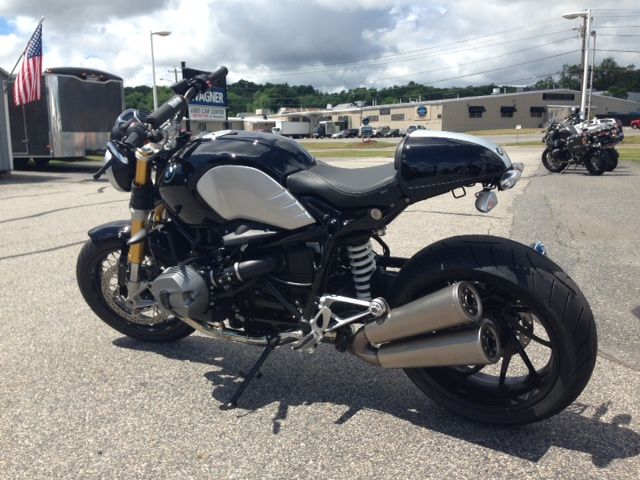 R9T/R1200 Tune details:
-Remap part/idle/tip-in/deceleration + full throttle lambda fueling targets. (The R9T in most cases runs a touch too lean stock).
-Remap part and full throttle timing for premium pump and race fuels (91+93+100+105+116).
-Remap desired load tables to supply a full power at high loads.
-Remap throttle torque tables to supply a full 100% open throttle operation at higher loads.
-Cat temp threshold fuel override for bikes with full exhaust (avoids failsafe fueling rich override).
-Adjust the rev limiter to proper limits for stock motor for large increase in top end power (or built motors can be set higher, adjustable).
-Adjust decal fueling / load.
-Set upper octane ignition limit to be able to adjust for higher race 91+93+100 fueling on the fly (unleaded oxygenated fuels).
-Torque limiters modified and adjusted for performance at all engine loads
-
Up to +18HP
gains found on a 100% stock R9T at 8000rpms, more with catalyst deleted exhaust system.
About the BrenTuning BMSK ECU Tuning process:
-Uses factory 02 sensors, no longer need to force bike into open loop for tuning, allows for better engine braking, fuel target optimization, and part throttle / idle driveability.
-Load based ECU has alot of fine tuning adjustment versus piggyback tuner when setup correctly. Fuel piggybacks and ignition modules will not defeat the cat temp override or per gear fueling and perform poorly off the dyno in real world conditions.
-Corrects the Checksum/Immobilizer that causes most tuners to brick ECUs.
-Undetectable methods of loading the file.
-Does not require Power Commander or Bazazz units - they can be removed.
Unlock the ignition and throttle limiters that plague these bikes with piggyback modules, especially at higher power levels.
-The ECU is diagnostically invisible by the dealer.
-Next day service, overnight if available / requested.
-ECU Tuning comes in 2 different variants: Mail in ECU to BrenTuning, and Handheld Flash at home unit (coming very soon). Pricing will be announced once our final vendorship goes through.
Dyno graph of 100% Stock R9T (OEM Akrapovic) tested same day with 93 octane.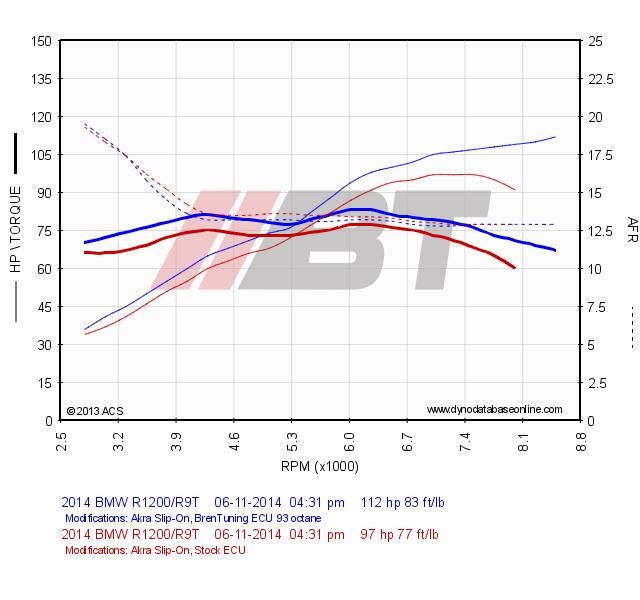 Gains are over the whole curve, with lots of extra power on tap in the high RPMs at a safer fuel mixture.
+18whp
found at 8000rpms, once the throttle and ignition limitation is modified making a wider more powerful band.
Tuning applies to:
F SERIES F 650 GS 37kW/49HP ME9
F SERIES F 800 GS 63kW/85HP ME9
F SERIES F 800 GS 63kW/85HP ME9
HP2 SERIES 1.2L 8V MEGAMOTO 83kW/111HP ME9
HP2 SERIES 1.2L 8V SPORT 98kW/131HP ME9
K SERIES K 1200 R 120kW/161HP ME9
K SERIES K 1200 R 120kW/161HP ME9
K SERIES K 1200 S 123kW/165HP ME9
K SERIES K 1300 R 127kW/170HP ME9
K SERIES K 1300 S 129kW/173HP ME9
R SERIES R 1200 GS 77kW/103HP ME9
R SERIES R 1200 GS 77kW/103HP ME9
R SERIES R 1200 R 80kW/107HP ME9
R SERIES R 1200 RT 81kW/109HP ME9
R SERIES R 1200 S 90kW/127HP ME9
R SERIES R 9T 90kW/127HP ME9
S SERIES S 1000 RR/HP4 142kW/190HP ME9/ME9+