Discussion Starter
·
#1
·
Per BaldyDave's request, I'm moving this info to its own thread
I love the looks of the 3/4 helmets for a number of reasons - man, those Rubys are gorgeous! - but have resisted getting one (and stuck with my full-face helmet instead) for one main reason: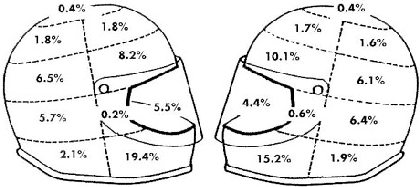 Some really interesting additional info on the image can also be read
here
.
For anyone purchasing a new helmet for themselves or their pillion, I hope you'll consider that about 1/3 of accident impacts are to areas unprotected by a 3/4 helmet. Since we're all adults and make our own choices, I just wanted share this in case you weren't familiar with it!