I like tools.
If the fasteners are anything like the R1200R, which I'd assume they will be, not much is needed for basic roadside repair. A couple of BMW small double ended wrenches that probably will come with the bike in 8mm, 10mm, 12 and 13 to start.
Then you need a front axle nut reverse socket to get the wheel off, 22mm like this.
BMW Front Axle Removal Tool
I also carry a Gerber Freehand multi tool similar to a Leatherman, but better IMO.
Then a set of these
Motion Pro Star-Pro Pivot Head Torx Wrench Set
for 90% of the fasteners, including removing the rear wheel. Very strong, compact and lightweight set.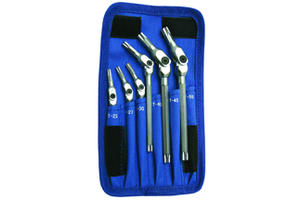 A
Valve Stem Fishing Tool
is very handy for tube repairs. Along with a
Enduro Star Trail Stand
and a
for the tubes is also needed to complete the roadside tube changing kit.
A Slime Top Up mini compressor does the trick for me to inflate tires, I replaced the cigarette lighter plug with a SAE plug and also added another SAE plug set closer to the unit, effectively giving me a jumper cable if need be without adding much bulk.
Carrying a small tube of
can be a lifesaver too if you punch a hole in your valve cover or engine block.
A few feet of e-tape and a foot of Gaffers tape wrapped around the wrenches saves space and can come in handy too.
Not sure what my plan is for storage, I have a large variety of soft panniers and bags for dirt bikes and will come up with something, or someone will make a 9T specific option for bags. I think a small black fender bag for tubes might work though.
I wonder if this rear cover could be cut out so tools could go in there?...
How cool would that be....
That's about all I carry, everything I need to fix what can be fixed without new parts, nothing I don't. If this new 9T is anywhere as reliable as my R1200R is, the only thing I'll need to do is change a tube or patch a hole in the valve cover, maybe tighten up a mirror now and then.
-Finn